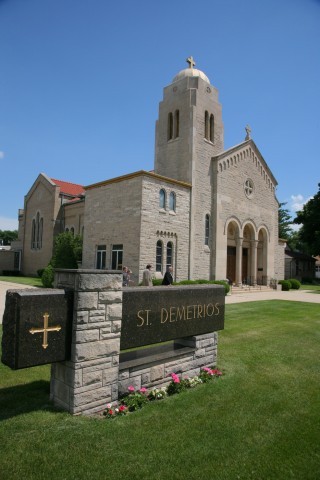 "Welcome one another, therefore, just as Christ has welcomed you, for the glory of God." - Romans 15:7
Through this web site, we are pleased to be able to introduce you to that same worship and fellowship as it is expressed in the life of our Parish. If you are a new member of our parish, or are considering membership, these web pages will acquaint you with what our parish offers to those who give it support and sustenance; to those who already belong to the church, we hope they will provide you with the assurance that your sacrificial offerings are received with profound respect, and are utilized to maximum effectiveness. They will, in any case, enable you to make the informed decisions that are necessary for a meaningful relationship with your church!
---
Services Schedule
SPECIAL MESSAGE: Due to the Coronavirus Pandemic all Church Services are currently suspended to protect the health of our parishioners.
Father David Bissias encourages all to consult our Metropolis webpage:
Special Coronavirus Metropolis resources can be found at the following webpage:
https://chicago.goarch.org/coronavirusresourcecenter
Our Parish now has a YouTube Channel for video messages that will be posted on Sundays, Wednesdays and Fridays until Church services can continue at the Parish.
YouTube Links:
4th Friday Message/Saint Demetrios of Hammond, IN
May God bless us all during these days of adjustment!
---
We meet for worship every Sunday morning at 8:15 AM followed by a fellowship coffee hour in our community center.
---
Sundays: Orthros (Matins): 8:15 AM | followed immediate by the Divine Liturgy: (approximately 9:15-9:30 AM)
---
Weekdays: Orthros (Matins): 8:30 AM | followed immediate by the Divine Liturgy: (approximately 9:15-9:30 AM)
---
For information on our Lenten and Holy Week services please consult our monthly or weekly bulletins, or contact the Church office at (219) 932-7347 between the hours of 10:00 AM - 4:00 PM, Monday through Friday.